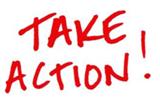 The Arc's Action Center contains the most current and up-to-date information on legislation as it relates to disability. Visit The Arc's Action Center below and make your voice heard. You can sign up to receive alerts so that you can take immediate action on issues that affect individuals with developmental and other disabilities and their families.
---

Don't Cut Our Lifeline- Save Medicaid and Social Security
Medicaid does not just provide health insurance, it also funds group homes, day programs and family support services for individuals with intelectual and other developmental disabilities. Proposed cuts and restructuring of Medicaid will have devastating effects on community services for individuals with I/DD.  Social Security Disability Insurance (SSDI) is also at risk. A 20% cut is looming. Now is the time to take action.
---
Statewide Transition Plan Advocacy
Background:
The Centers for Medicare and Medicaid Services (CMS), the federal agency responsible for parts of Medicaid, released a final rule to ensure that Medicaid's Home and Community-Based Services (HCBS) programs provide full access to the benefits of community living and offer services in the most integrated settings. This rule affects services funded through the Supports Waiver and the CCW Waiver.
Each state must submit a Transition Plan to CMS to show how they will comply with this final rule. States will have five years to come into compliance with the CMS requirements. The plan primarily addresses Residential and Day Program Services.
New Jersey's compliance plan includes a number of provisions of concern to us, that may be of concern you too. They will be collecting comments through February 26, 2015. Public hearing is on February 19, 2015. Click on the Action Alert link for details
The plan that was submitted to CMS

The Arc of Bergen and Passaic Counties' Action Alert is located here. It includes areas of concern and information on how you can weigh in.

The State's draft of the Transition Plan is located here. This plan was later revised.