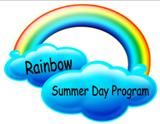 THE RAINBOW EXPERIENCE
Rainbow is a six week summer day camp for children and adults with developmental disabilities. Rainbow provides a safe, educational, fun-filled experience.
Door to Door Transportation is provided for most participants.

Swimming is enjoyed daily at Darlington Lake with transportation provided to and from the Ramapo Campus.

Rainbow operates for 6 weeks in the summer from 9am to 3pm each day plus transportation time.

The Rainbow Staff includes Certified Special Education Teachers, Nurse, Behavioral Support Staff, Counselors, Lifeguards and Art, Music and Adapted Phys.ed Specialists. The Director, Assistant Diretor and Program Coordinator are special education teachers with many years experience in the field.

Activities
Each week at Rainbow has a theme. Special events, music, art, academics, cooking groups, shows, contests and projects reflect the theme.

Activities of daily living, social skills, communication skills, developing confidence and self esteem are all part of the Rainbow experience.

The Rainbow Vacation Club offers adults an opportunity to get away from work/day programs and have some fun with age appropriate activities both on-site and in the community.

Extended School Year
The Rainbow Summer Day program provides extended school year services for many school districts.

Designed to support and maintain the skills children are learning during the school year, the program also emphasizes the incorporation of skill maintenance and development in accordance with the IEP.

The IEP is utilized by Rainbow's Special Education Teachers to guide programming aimed at maintaining existing skills and developing new competences. Instruction occurs during focused activities and is also incorporated into activities throughout the day. There is a strong emphasis on building independence, communication and social skills.